Discover more from For Every Scale
Navigating the vast landscape of artificial intelligence can be daunting, regardless of your business's size. Whether you're a budding startup exploring AI's potential or a well-established giant aiming to leverage its power, our newsletter is for you.
Designers, Meet AI: Your New Partner in Creation
Delve into how generative AI is reshaping design, from graphic artwork to architectural marvels, unlocking a new era of innovation.
In the realm of design, where creativity is the cornerstone, the incursion of generative artificial intelligence (AI) is akin to a brisk wind, offering fresh perspectives and uncharted territories of exploration. As we traverse into 2023, generative AI continues to evolve, introducing pioneering methodologies that reshape traditional design paradigms across various domains. This edition of AI For Every Scale delves deeper into these groundbreaking advancements, providing a comprehensive insight into how generative AI is augmenting the creative capabilities of designers, optimising processes, and propelling the industry into a new era of innovation.
Graphic Design and Artwork
Generative AI and graphic design intersection is a burgeoning frontier brimming with potential. A recent study emanating from the esteemed halls of MIT underscored the need for generative AI to move beyond merely mimicking "statistical similarity" to foster innovation in engineering design solutions genuinely.
To excel at engineering design, generative AI must learn to innovate. - MIT
This transition holds the promise of unlocking a treasure trove of novel ideas and designs, amplifying the creative scope for designers manifold.
Concurrently, Adobe's strides in generative AI technology, notably enhancing model capacity and image generation prowess, empower designers to manifest their creative visions with improved efficiency and precision.
How are you leveraging generative AI to break the mould and introduce novel elements in your graphic design projects?
Web and UI/UX Design
Generative AI is steadily becoming a cornerstone in web and UI/UX design evolution, offering a blend of automation, personalisation, and innovative design solutions. The augmented personalisation of AI in design tools significantly aids in creating responsive design elements. For instance, a design prompt in Midjourney can be adjusted to generate design elements for a shoe company's mobile website landing page, showing the potential for creating realistic web design elements tailored to specific use cases.
The revolution doesn't stop at design elements alone; it extends to enhancing user experiences through personalisation, accessibility, and smart content creation. Generative AI is paving the way for more accurate testing and incorporating chatbots, significantly elevating digital interfaces' visual design and interactivity. This progression is crucial as designers and developers continue embracing new tools to transform every UI/UX design aspect.
Looking ahead, the future of UI/UX design is intertwined with the advancements of AI technologies like GPT-4 and ChatGPT. These technologies are not just transforming the aesthetics but are also reshaping the ethical landscape of design. For example, the emphasis on designing a seamless UX with Zero UI, focusing on natural interactions and a deep understanding of user behaviours, indicates a shift towards creating more human-centric and accessible digital interfaces. The rise of data-driven and personalised design also reflects the industry's move towards leveraging AI to deliver more tailored and user-friendly experiences. Moreover, Adobe's significant acquisition of Figma for $20 billion underscores the value and potential of collaborative prototyping tools within the UI/UX community, hinting at generative AI's transformative impact on the domain.
How is generative AI influencing your crafting of more intuitive and user-centric digital interfaces?
Fashion and Textile Design
Generative AI seamlessly intertwines with fashion, propelling the industry into a new realm of creativity and operational efficiency. A striking example comes from an artist known as Str4ngeThing, who utilises generative AI tools to create conceptual fashion pieces that blend different eras. Similarly, the supply chain startup Cala introduced a tool powered by Dall-E technology in January 2023, enabling users to receive design suggestions based on their inputs and refine them before physical production, showcasing the real-time iterative design process facilitated by generative AI.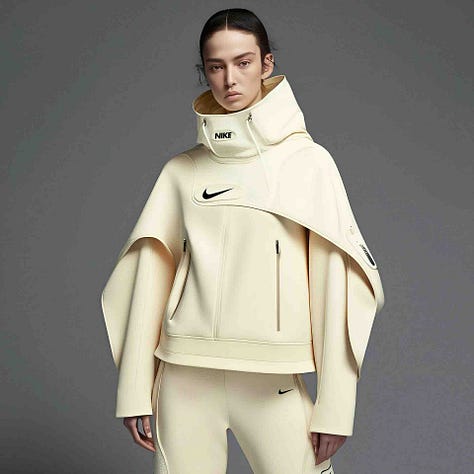 The retail sector is also harnessing the benefits of generative AI. Lingerie brand Adore Me employed generative AI to craft SEO-optimized product descriptions, saving considerable copywriting time and boosting organic traffic. Additionally, in March 2023, Levi's collaboration with digital fashion studio Lalaland.ai aimed at exploring the use of AI-generated models to display online products, indicating a move towards more inclusivity and variety in online retail. Furthermore, April 2023 saw German e-tailer Zalando and marketplace Mercari introducing AI-powered fashion assistants to personalise shopping experiences, showcasing how generative AI can cater to the preferred personality.
The advertising and showcasing realms in fashion are also enriched by generative AI. Fashion retailer Revolve utilised generative art tools for an imaginative ad campaign in April 2023, while graphic designer Rachel Koukal showcased a generative AI-created collection during AI Fashion Week. Other notable applications include Innovative Eyewear Inc.'s smart glasses integrated with ChatGPT for interactive experiences and Prada Beautcharacterised traditional photography with generative AI for promotional imagery. These instances underline the vast potential of generative AI in elevating creativity and enhancing customer engagement in the fashion and textile design domain.
In what ways is generative AI enhancing your creativity and operational efficiency in fashion and textile design?
Architectural and Interior Design
Generative AI has emerged as a game-changer in architectural and interior design, offering a blend of efficiency, creativity, and compliance with design norms. It's not just about creating visually appealing designs but also about ensuring that these designs are sustainable, efficient, and in adherence with building codes. Generative AI, with its ability to generate designs, facilitate sustainable design operations, and even give clients a virtual walk-through of structures before they are built, is reshaping the way architects and interior designers approach their projects.
Finch is a remarkable tool in this domain, a parametric planning tool packed with many design functions. Another notable mention is Wind analysis in Forma, an AI tool targeted towards urban development, signifying the expansive impact generative AI is having in the architectural landscape. Beyond these tools, generative AI's role in space planning cannot be overstated. It can swiftly analyse a space's dimensions and layouts, recommending optimal furniture arrangements to enhance functionality and aesthetics. This fast-tracked analysis and planning free up designers' time, allowing them to focus on other critical aspects of their projects.
Moreover, the introduction of generative AI is streamlining the design process, simplifying complex procedures and decision-making, and saving time and effort. For instance, it automates critical design aspects such as furniture arrangement and space planning, enabling designers to visualise design proposals within minutes. This improves client interactions and engagement and contributes to customer satisfaction as clients can see exactly how the final design will look. Furthermore, generative AI aids in personalisation, understanding clients' requirements to create designs that cater to their specific demands and even allowing a virtual walk-through of the designs or spaces, enhancing the overall client experience.
How are you utilising generative AI to achieve a blend of aesthetic appeal, efficiency, and compliance in your architectural designs?
Ethical and Privacy Considerations
Generative AI's versatility extends well beyond the traditional design domains. It's forging new pathways in synthetic data generation to aid design research, ensuring user privacy while deriving valuable insights for design improvements.
Integrating generative AI in design inevitably ushers in a slew of ethical considerations. The industry is grappling with authenticity, originality, and the intrinsic value of human touch in design. Designers and industry leaders must address these concerns head-on, ensuring that AI's role in design remains ethical and genuine, preserving the essence of human creativity while leveraging the power of AI.
How are you navigating the ethical considerations of integrating generative AI in your design processes?
Future Outlook
The evolution of generative AI heralds a promising future characterised by more personalised design solutions. The envisioned symbiotic relationship between AI and human designers is expected to burgeon, with AI serving as a tool offering suggestions, automating mundane tasks, and providing insights from vast datasets. In contrast, humans will give the essential touch of creativity and intuition.
Generative AI is a tool for automating mundane tasks; humans give the essential touch of creativity and intuition.
As we delve deeper into generative AI, the symbiosis between human creativity and machine intelligence unveils a new epoch characterised by boundless innovation, enhanced efficiency, and an expanded creative scope. The amalgamation of these advancements promises a transformative journey for designers, technologists, and entrepreneurs, heralding an era of unprecedented creative exploration and solution-oriented design approaches.
The horizon of generative AI in design is expansive and exhilarating, promising a future replete with groundbreaking innovations. As designers and technologists continue to collaborate, the potential for creating a new narrative in design is boundless. Stay tuned for more insights in our next edition as we continue to unravel the dynamic landscape of generative AI in design.
How do you envision the symbiotic relationship between generative AI and human designers evolving in your field?