Discover more from For Every Scale
Navigating the vast landscape of artificial intelligence can be daunting, regardless of your business's size. Whether you're a budding startup exploring AI's potential or a well-established giant aiming to leverage its power, our newsletter is for you.
Ogilvy and Lawrence on AI
Storytelling for the Algorithm Age
In this edition of "AI for Every Scale," we're venturing into a unique experiment. Using the capabilities of ChatGPT, we've crafted a fictional conversation between two advertising legends: David Ogilvy, often hailed as the "Father of Advertising," and Mary Wells Lawrence, not only a trailblazer in the industry but also the first woman to found, own, and run a major advertising agency. While the dialogue is imagined, the perspectives are rooted in their known philosophies, offering a speculative glimpse into how these titans might view the rise of generative AI in advertising. Dive in and enjoy this blend of past wisdom and future possibilities.
In an extraordinary meeting of minds, we witness a conversation between two giants of the advertising world. David Ogilvy, whose innovative approaches revolutionised the industry, and Mary Wells Lawrence broke the glass ceiling with her agency Wells Rich Greene, creating iconic campaigns and setting new standards for the industry. Using a blend of holographic technology and AI-driven simulations, they discuss the rise of generative AI in advertising.
AI for Every Scale is a reader-supported publication. To receive new posts and support my work, consider becoming a free or paid subscriber.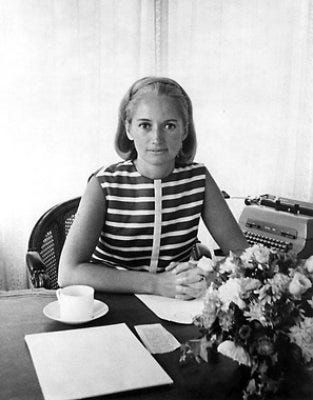 Mary: David, it's been a while! Generative AI seems to be the talk of the town. What's your take?
Ogilvy: Mary, always a pleasure. It's fascinating. On one side, the capabilities of these machines are beyond anything we've seen. But I'm concerned about the potential loss of the human touch in our craft.
Mary: I understand your reservations. But remember, during our time, we witnessed the rise of television and its challenges to print. Every new medium or tool brings its own set of challenges and opportunities. Perhaps AI is just another tool, albeit a very powerful one.
Ogilvy: True. But can a machine truly replace the creativity of a human mind?
Mary: Not replace, David, but maybe enhance? We've always used tools to amplify our messages, be it print, radio, or television. AI can be another tool, helping us understand our audience better and perhaps even draft initial content.
Ogilvy: But there's an essence, a soul to human creativity. It's born from our experiences, emotions, and unique perspectives. AI can assist, but can it evoke genuine emotion?
Mary: I agree. The best campaigns we've seen, be it "Think Small" for Volkswagen or your own "The Man in the Hathaway Shirt", all had a human touch, a story. AI can provide data, but the story, the connection, that's human.
Ogilvy: And what about ethics? With AI's ability to generate content, there's a risk of producing misleading or inauthentic messages.
Mary: Absolutely. Honesty in advertising is paramount. But remember, every tool can be misused. It's up to us, the advertisers, to ensure that AI-generated content aligns with ethical standards.
Ogilvy: Speaking of tools, how do you see agencies evolving in this AI-driven era?
Mary: Agencies have always been about people, ideas, and relationships. They'll need to adapt, of course. Understand AI, train their teams and integrate AI tools. But they'll also need to emphasise their unique value: human creativity and strategic thinking.
Ogilvy: Personalisation seems to be a big promise of AI. Your thoughts?
Mary: Personalisation is powerful. If AI can help us achieve true personalisation, making each message resonate with the individual, it's revolutionary. But there's a line between personalisation and intrusion. We must tread carefully.
Ogilvy: True. And with data privacy concerns, how should advertisers navigate this new landscape?
Mary: Transparency and respect. Always let the consumer know what data you're collecting and why. And use it responsibly. AI can analyse data without breaching privacy, using aggregated and anonymised datasets. But trust, once lost, is hard to regain.
Ogilvy: Before we conclude, Mary, any advice for the young advertisers navigating this brave new world?
Mary: Embrace the future but respect the past. Use AI to enhance, not replace, the principles that have always made advertising great. And always, always prioritise the consumer.
Ogilvy: Well said, Mary. It's a tool, and like any tool, its value lies in how we use it.
Mary: David, thinking back to our early days in advertising, we were pioneers, navigating uncharted territories. Today's advertisers are pioneers of their own era, with AI as their frontier. They must approach it with the same curiosity, caution, and creativity we did in our time.
Ogilvy: Indeed. And as we always believed, it's not just about selling a product but building trust, understanding the consumer, and telling a compelling story. The core principles remain whether it's a pen and paper, a television spot, or an AI algorithm.
Mary: A testament to the timeless nature of our profession. While tools and mediums change, the heart of advertising remains constant.
As the simulation concluded, the holographic figures of Ogilvy and Lawrence faded, leaving us with insights that spanned eras. In a rapidly changing world, the wisdom of advertising's titans remains ever-relevant, reminding us that while the tools may change, the art of persuasion is timeless.
AI for Every Scale is a reader-supported publication. To receive new posts and support my work, consider becoming a free or paid subscriber.
Postscript
On Linkedin, I asked "Did ChatGPT do a good impression of Ogilvy and Lawrence Stanley Johnson, Russel Howcroft, Kate Dinon?" to which Stanley Johnson replied:
"If anything it reinforces my opinion that AI can give you a start, but it requires an experienced human to take that start and turn it into great work.
I'm old enough to have worked with a couple of people who actually worked for Ogilvy. And from what they told me, he was a highly opinionated old bugger. And in the AI piece he comes across as way too passive.
As for Mary Wells, she smashed several glass ceilings in a time when men ruled Mad Ave. So she would've been much more feisty than she seems in the AI piece. She tends to dance around the issue rather than make any definitive statements.
So to come full circle, the AI 'conversation' is a good start, but desperately in need of an injection of attitude and opinion. Which is where a great writer comes in…. " - Stanley Johnson, Creative Director, Stan/Lee
So, I asked ChatGPT to rewrite the conversation between Mary and David. Here's the revised conversation:
Incorporating Stanley Johnson's feedback, the conversation between Mary and David needs to be more opinionated and assertive, reflecting the personalities of these advertising legends. Here's a revised version:
Mary: David, it's been ages! Everywhere I turn, it's all about this Generative AI. Frankly, I find it a tad overhyped. What do you think?
Ogilvy: Mary, always a delight. I must admit, the capabilities are impressive. But I can't shake off the feeling that we're trading genuine creativity for convenience. Machines can't replicate the human soul in advertising.
Mary: Oh, I remember the uproar when television started gaining traction. Everyone thought it would be the death of print. Look, every era has its tools. AI is just the shiny new toy. But it's not the tool, it's how you use it.
Ogilvy: But can a machine truly capture the essence of a brand, the story behind it? I've always believed in the power of a compelling narrative.
Mary: David, I'm with you. But think of AI as a junior copywriter. It might give you a draft, but it's up to the seasoned pros to refine it, to give it soul. We've always used tools to amplify our messages. This is no different.
Ogilvy: There's a raw emotion, a passion that drives our best campaigns. Can AI truly evoke that? Or are we just settling for mediocrity?
Mary: You're right. The best campaigns, like "Think Small" or "The Man in the Hathaway Shirt", they had heart. AI can crunch numbers, but the story, the magic, that's on us.
Ogilvy: And what about ethics? With AI churning out content, there's a real danger of misleading the public.
Mary: Couldn't agree more. Honesty is non-negotiable. But it's not the tool, it's the hand that wields it. We need to ensure AI stays in line.
Ogilvy: With AI taking centre stage, how do you see agencies adapting?
Mary: Agencies will always be about the big ideas. Yes, they'll need to get with the times, understand AI, but they can't forget their roots. It's the human touch, the strategy, the relationships that set them apart.
Ogilvy: AI promises personalisation. But isn't there a risk of crossing a line?
Mary: Absolutely. Personalisation is a double-edged sword. It's powerful, but there's a thin line between relevance and intrusion. We need to be vigilant.
Ogilvy: And with all these data concerns, how should we tread?
Mary: With utmost transparency. Consumers aren't fools. Let them know what you're doing with their data. And for heaven's sake, use it responsibly.
Ogilvy: Before we wrap up, any pearls of wisdom for the young guns diving headfirst into this AI-dominated world?
Mary: Learn from the past, innovate for the future. AI is a tool, not a crutch. And remember, it's always about the consumer. Always.
Ogilvy: Couldn't have said it better. Whether it's a billboard, a TV spot, or an AI-generated ad, the essence remains the same. It's about trust, understanding the consumer, and crafting a story that resonates.
Mary: Precisely. The mediums evolve, but the core of advertising? That's eternal.