Discover more from For Every Scale
Navigating the vast landscape of artificial intelligence can be daunting, regardless of your business's size. Whether you're a budding startup exploring AI's potential or a well-established giant aiming to leverage its power, our newsletter is for you.
OpenAI, Meta, Getty Images, and Google: Unleashing the Next Wave of AI Innovation
Discover how these tech giants are transforming the AI landscape with visual artistry, interactive AI, and seamless integration, setting new benchmarks in creativity and user engagement.
Welcome to another edition of AI For Every Scale, where we dissect the most recent and impactful AI innovations that redefine technological boundaries and shape our daily interactions and experiences with the digital world. This edition focuses on the groundbreaking strides made by OpenAI, Getty Images, Meta, and Google.
DALL·E 3 Transforms Text into Art
OpenAI has introduced DALL·E 3, a significant advancement in text-to-image generation. This new model understands more nuance and detail than its predecessors, allowing users to translate their ideas into highly accurate images easily. DALL·E 3 is built natively on ChatGPT, enabling users to use ChatGPT as a brainstorming partner and refiner of image prompts. ChatGPT automatically generates tailored, detailed prompts for DALL·E 3 when prompted with an idea, bringing users' ideas to life with precision. If an image isn't quite right, users can ask ChatGPT to make tweaks with just a few words.
Dive into the innovative world of Dalle 3 and unleash your creativity by utilising the Bing Image Creator, a tool designed to transform your imaginative concepts into visual masterpieces, available now for an enhanced artistic experience. Imagine the limitless possibilities DALL·E 3 opens up for artists, designers, and innovators around the globe, transforming mere words into visual narratives.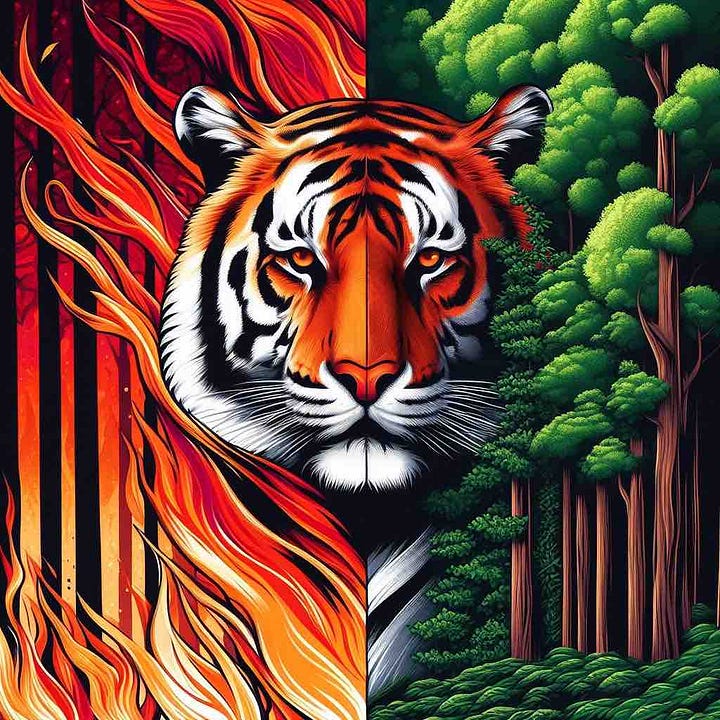 Safety and ethical generation of content remain a priority for OpenAI. DALL·E 3 comes with mitigations to decline requests that ask for public figures by name and is designed to limit the generation of violent, adult, or hateful content. OpenAI has also introduced a provenance classifier, an internal tool to identify whether an image was created by DALL·E 3. This tool is part of the ongoing efforts to understand how generated images might be used and to ensure the responsible use of AI technology.
OpenAI's DALL·E 3 is a marvel in text-to-image generation. It's not just the technological prowess that impresses but the ethical considerations embedded in its design. While it's tempting to get lost in the allure of transforming textual ideas into visual artistry, OpenAI's commitment to safety and ethical content generation is commendable. It's a reminder that the dance between AI and human creativity is as much about setting boundaries as it is about exploration.
After exploring DALL·E 3, it's clear that the boundaries between our imaginative concepts and tangible visuals are dissolving. For professionals and creatives alike, this means an era where visual communication becomes as straightforward as typing a text.
Getty Images' New Frontier in Generative AI
Getty Images has unveiled "Generative AI by Getty Images," a revolutionary tool that combines the company's top-tier creative content with advanced AI technology, offering a commercially safe generative AI tool. Trained on the state-of-the-art Edify model architecture, part of NVIDIA Picasso, this tool is rooted in Getty Images' extensive creative library, ensuring full indemnification for commercial use. It promises to enhance the creative process, offering a unique blend of authentic visuals and AI-powered custom content solutions tailored to diverse needs.
Customers using this tool will benefit from Getty Images' standard royalty-free license, ensuring confidence in the commercial use of AI-generated visuals. The content generated will not be added to the existing Getty Images and iStock content libraries, maintaining exclusivity for the user. Contributors are compensated for including their content in the training set, ensuring that the intellectual property rights of creators are respected. This initiative underscores Getty Images' commitment to fostering creativity while upholding ethical standards in the rapidly evolving landscape of generative AI.
"Generative AI by Getty Images" is a testament to the harmonious blend of AI and human creativity. While the tool promises a frontier of endless creative possibilities, ethical considerations and respect for intellectual property stand out. In a world where AI-generated content is becoming ubiquitous, Getty Images' initiative is a beacon of ethical AI deployment, where innovation and creativity are balanced with respect for the artist's craft.
Amid awe and admiration for Getty's Generative AI, I'm prompted to reflect on the delicate balance between unleashing creative potential and upholding ethical standards. This dance will define the future of AI in creative arts.
How do you see the balance between unbridled creativity and ethical considerations? Your insights are invaluable.
ChatGPT Evolves: Now, with Voice and Image Interactions
OpenAI has unveiled new voice and image capabilities in ChatGPT, a significant stride towards more intuitive and dynamic user interactions. Users can now engage in voice conversations with the AI, facilitated by a cutting-edge text-to-speech model that generates human-like audio. This feature, available to Plus and Enterprise users, is complemented by the ability to show images to ChatGPT, enabling a richer, more contextual dialogue. Whether discussing a snapped picture of a landmark or brainstorming dinner ideas based on the contents of a fridge, these enhancements promise to make AI interactions as seamless as they are insightful.
The rollout is part of OpenAI's cautious approach to introducing advanced features, balancing innovation with safety and ethical considerations. The voice technology, while opening doors to many creative and accessibility-focused applications, is not without its challenges, including the potential misuse by malicious actors. Similarly, introducing vision-based models is accompanied by measures to ensure that the AI respects individuals' privacy and safety. OpenAI continues to refine these features, underscoring its commitment to responsible AI deployment.
OpenAI's enhancement of ChatGPT, integrating voice and image interactions, is a stride towards a future where AI interactions are as natural as human conversations. However, the cautious approach to rollout, balancing innovation with ethical considerations, resonates with me. It underscores a narrative where the excitement of innovation is tempered with the sobering yet essential considerations of privacy, safety, and ethical use.
Have you tried the new voice and image interactions in ChatGPT? We're eager to hear about your experiences and insights.
Meta's AI Ecosystem: A Symphony of Innovation and Interaction
Meta (parent company of Facebook) is stepping up its game in the AI space, unveiling a suite of AI-powered features designed to enhance user creativity and expression. The announcement includes the introduction of AI stickers, leveraging technology from Llama 2 and Emu to transform text prompts into unique, high-quality stickers for chats and stories across WhatsApp, Messenger, Instagram, and Facebook Stories. Additionally, new image editing tools, Restyle and Backdrop, are set to debut on Instagram, allowing users to transform and co-create images with AI, ensuring a blend of creativity and technology.
Additionally, Meta has introduced a conversational assistant that integrates across its apps and devices. Powered by technology from Llama 2 and the latest large language model research, Meta AI offers real-time information and image generation tools, enhancing user interaction and engagement. In a significant move, Meta is also rolling out 28 AI characters that users can interact with on WhatsApp, Messenger, and Instagram. These AI characters, embodied by cultural icons and influencers, are designed to offer a more personalised and engaging user experience.
With Meta's AI characters and enhanced features, every message and story shared becomes a more immersive and personalised experience.
In a synergistic move, Meta, in partnership with EssilorLuxottica, has announced the next-generation Ray-Ban Meta smart glasses. Starting at $299, these redesigned glasses are enhanced with new features and improvements, allowing users to capture and share moments hands-free, with improved audio and media quality. The Qualcomm Snapdragon AR1 Gen1 Platform powers the glasses, ensuring higher-quality photo and video processing. Users can also enjoy hands-free livestreaming to Facebook or Instagram and engage with Meta AI for a hands-free, on-the-go experience. However, I believe there's still something inherently creepy about any brand of glasses equipped with cameras. The notion of people potentially recording others unknowingly raises significant privacy and ethical concerns that can't be overlooked despite the innovative strides in this space.
Meta's suite of AI-powered features is a celebration of creativity and expression. Yet, the integration of AI characters, designed to offer personalised and engaging user experiences, underscores the delicate balance between technology and human interaction. Amid awe-inspiring innovation, the essence of human touch, ethical considerations, and user privacy remains paramount.
Google Bard Amplified: Seamless Integration and Enhanced Collaboration
Google Bard is enhancing the user experience with a series of innovative updates. This AI tool, known for tailoring its responses to users' needs, now integrates more deeply with Google apps and services. The new Bard Extensions feature enables the AI to pull relevant information from various Google tools like Gmail, Docs, Drive, Google Maps, YouTube, and more, all within a single conversation. This integration streamlines the process of gathering and sharing information, making Bard an even more powerful tool for collaboration and productivity.
The "Google it" feature has also been improved, allowing users to verify Bard's responses easily. Users can see Bard evaluate its answers by clicking the "G" icon, offering additional context and information to ensure accuracy. This feature enhances the trust and reliability of the information provided by Bard. Moreover, users can build upon shared conversations with Bard, adding a collaborative element that allows for continuing discussions and exploring ideas through a public link.
Google Bard's integration with various Google tools is a testament to the seamless future of AI and human collaboration. The feature that allows users to verify Bard's responses underscores the essential dialogue between AI accuracy and human discernment. In the era of information overload, the balance between AI assistance and human verification is not just a luxury but a necessity.
Explore the enhanced Google Bard and share your thoughts. How is it transforming your online collaborations and information gathering?
Closing Remarks
As we conclude, it's evident that we're on the brink of an AI revolution, where technology meets ethics, and innovation intertwines with experience. But what are your thoughts? How do you foresee these innovations shaping our future? Share your insights, and let's unravel the future of AI together.
As these technologies evolve, our collective dialogue, insights, and critiques will be instrumental in shaping an AI landscape that is innovative, ethical, and beneficial for all.
Share the Insight!
Your insights and perspectives catalyse a more diverse conversation on AI's evolution. Share this newsletter, and let's collectively explore, question, and shape the unfolding narrative of artificial intelligence.
In the unfolding narrative of AI, we are not mere spectators. We are contributors, critics, and beneficiaries. Each perspective and voice adds a unique note to the symphony of AI innovation. Until the next edition, let's keep the conversations, explorations, and reflections alive.